2022 Penny Wars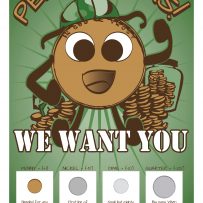 The Annual War has begun!
HCA Penny Wars Info: 
Regular warring in the hall: February 28th – March 25th (4 weeks)
Cross bombing (Elementary vs MS/HS): Will happen in the morning between 7:50 and 8:10.
Friday Dress Down funds during the war will go to your class jar (treated like paper pennies, positive points for the class).
Taste of Heartland Expo: Saturday March 26th in the HCA Gym (Time Frame 11am – 4pm at HCA)
Silent Auction – March 28th – March 31st
Friday April 1st will be a final count day/finalizing Silent Auction.
Penny Wars is a 4-week marathon where the students, teachers, parents, and family bring their pennies, nickels, dimes, quarters, and bills and compete to raise money. At the end of the month, the funds go to a specific group/individual that is near and dear to our Heartland family though they may be other side of the world.
The goal is to have the highest number of pennies. There is a winner every week, and that plays into overall grand winner (calculated at the end of the month). Pennies (value 1 cent) are the only positive currency (that count as points for the class). "Bombs" are negative currency which impact the class total with negative points (the silver coins, dollar bills, checks. For example: nickels -5 cents, dimes -10 cents, 10-dollar bill = -1,000 cents).
Parents, students, and any willing donor, can come to me in the front office (or their teacher) and "trade in" the value of silver coins, bills, and checks and egiving for "paper pennies" – paper slips that will count as the positive amount of the cash value (explaining banking to small children can be interesting ?).
We currently do not have specific individual(s)/countries that the funds will be going to – but we will let you know soon.
Below is an egiving link where you can give to HCA Penny Wars. Please select "For Penny War Donation" and specify the class you would like it to go towards in the comment section.