Samuel Center Open Enrollment With New Hours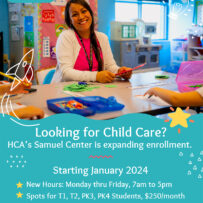 We are expanding out hours and enrollment in our daycare starting January 2024. New Hours will be Monday through Friday 7am – 5pm with openings available in the following classes:
T1 – 2 openings for 1 year olds
T2 – 9 openings for 2 year olds
Pk3 – 6 openings for 3 year olds
Pk4 – 2 openings for 4 year olds
Contact HCA at 660-284-6300 for details. The Samuel Center is located within the main building of HCA.